The low weight Lucia N°03 Home Portal meditation lamp

perfect for on the go, at home and ideal for workshops

Purpose
The meditation lamp is used to immerse yourself in a meditation faster.
The version "Home Portal" is designed for singular use (ie for one person)
and ideally for use in workshops or group light experiences.
Note: The meditation lamp Lucia N°03 Home Portal is not a replacement for the Lucia N°03 Practitioner System, which is used to work with other people (e.g. light travelers).
The Lucia N°03 Home Portal is NOT suitable for use in the business area (B2B business to business).
Note
Meditation is not a medical therapy but a mental attitude.
The meditation lamp Lucia N°03 is not a verified medical advice.
Therefor the meditation lamp Lucia N°03 is not to use for: diagnosis, treatment, relief or preventive for an illness; disorder or abnormal physical condition or either one of these symptoms by humans or animals; for recovery, changing or shifting the body structure or the functionality of body parts by humans or animals.

Target group
People who want to use the device privately.
Light Attendants who already use a Lucia N°03 Practitioner System and would like to use one or more Lucia N°03 Home Portals as a supplement to "Light Streaming" for workshops and group experiences.
Innovative
Absolutely new is that you can control several Lucia N°03 Home Portals exactly synchronously with just one Lucia N°03 Practitioner System.
This is ideal for workshops and group light experiences, guaranteeing unique experiences at exactly the same time with other light travelers.
Comfort in operation
Set up Lucia N°03 Home Portal, switch on with a four-digit PIN code, quickly select and start sessions with the convenient rotary knob.
With the mouse you can activate the popular functions "freeze" and "dimm" during the session.
Light sources
The computer-controlled lamp system uniquely combines 5 light sources:
The meditation lamp has 4 LEDs, which produce the stroboscopic effect.
Only Lucia N°03 has an additional halogen light source, which is generally perceived as very pleasant, gentle and warm.
Sessions (= light sequences)
Lucia N°03 Home Portal is equipped with the same sessions as Lucia N°03 Practitioner System.
Software Lucia N°03 Home Portal
The complete software for operating the device is installed in the lamp head and works independently (no further external device is necessary).
Switch on / off by pressing the metal button below the halogen lamp.
The pleasantly readable display of the meditation lamp "Home Portal" turns on. All functions can be controlled quickly:
First login via a 4-digit PIN,
Menu display,
Selection of sessions, starting and ending the sessions,
Import function for new sessions and Software updates.
Page exclusively for customers
at our homepage a service page is exclusively set up for customers. There can be found:
• PIN management
• safety instructions
• current information
• latest software for download
• latest manual for downloading
• important information e.g. about innovations
Scope of delivery
• Lamp head with four cold light and one hot light source
• Stainless steel and carbon lamp stand, can be dismantled, extremely light and yet stable, with telescopic function for regulating the distance
• Power supply with country-specific plug
• Mouse: start / stop, emergency button, freeze function, dimming function
• 124 ready-to-use sessions
• Carrying case for secure storage with combination lock individually adjustable
• Lucia N°03 USB stick for data transfer and data backup
• Operation manual
• upholstery with cover
• NEW up from March 1st 2020: inclusive "Lucia N°03 Controller" for controlling the light sources in real time by the light traveler
Weight and dimensions
In addition to the previous Lucia N°03 Practitioner System, a smaller handy device was developed in 2018.
Outside dimensions of the case, ready in card box for shipment: 59 x 49 x 26 cm
Total weight: 8.5 kg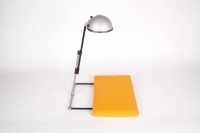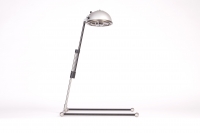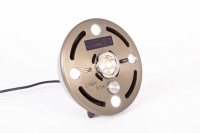 Production
All components used meet the highest quality standards.
Design and software come from Austria.
Lucia N°03 Home Portal is handmade in the district of Tyrol and shipped worldwide after careful final testing.
Price
ex works Innsbruck- Austria: Euro 6.600,00 plus 20% Austrian tax.

Follow-up costs minimal
The device needs low power thanks to the low-voltage power supply.
The halogen light source is to renew according to the usual life of such, so rather rare.
Software updates are usually free.
Support is usually free.
Prices non-European states
Please contact our distributors or the This email address is being protected from spambots. You need JavaScript enabled to view it..
The prices may differ due to transport costs, customs duties, import duties, currency fluctuations or similar.

Delivery without Austrian tax
For export outside the EU or with a valid VAT within the EU, delivery will be made without Austrian tax.
Declaration for customs
For information on the import conditions of your country you need this tariff number: 9405 2099
Purchase Lucia N°03 Home Portal
If you are interested in buying, please contact your distributor.
If you are in contact with a Light Attendant, you can also contact him / her.
If you want to contact This email address is being protected from spambots. You need JavaScript enabled to view it. in Austria you are welcome.
Important - you should note this before buying
In rare cases, flashbacks can occur after altered states of consciousness. The application of Lucia N°03 is entirely at your own risk. Children and adolescents, pregnant women and persons with a stroboscope incontinence, e.g. due to mental illnesses (psychosis, anxiety disorders, etc.) or medical problems such as tendency to seizure disorders (epilepsy, etc.) are excluded from the application in any case.
The meditation lamp Lucia N ° 03 Home Portal may only be performed in the presence of another person who has been informed about the safety regulations and can provide first aid or get help in case of an unexpected incident.
The technique of the meditation lamp Lucia N°03 has been internationally patented.
Lucia N°03 Practitioner System received medals at major inventions fairs (Geneva, Nuremberg, Kuwait).
Lucia N°03 is the world's leading pioneer in terms of the Hypnagogic Light Experience.